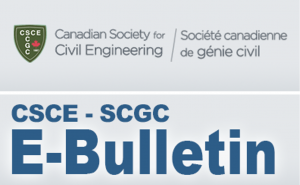 Rina Kurian and Alex Mason presented 'Envisioning a Sustainable Future for Water / Wastewater Infrastructure' on Nov 8th at the National Water and Wastewater Conference hosted in Halifax. They argued the need for a common sustainable approach to all aspects of infrastructure development and delivery has never been more important. Rina and Alex described how the Envision framework provides guidance on sustainable practices in the planning, design and delivery of infrastructure. The framework initiates wholistic change from inception to end-of-life for infrastructure by means of decision-making guides rather than prescriptive measures. They outlined how the Envision framework, by encompassing Quality of Life, Leadership, Resource Allocation, Natural Worlds, and Climate and Resilience, provides a comprehensive, common rating system for assessing sustainability of infrastructure which has been welcomed by the water industry. In 2016, the Water Environment Federation (WEF) developed the Applying Envision 1.0 to Water Projects to provide further guidance in the applicability of Envision credits across Collection Systems, Stormwater, Biosolids and Municipal Resource Recovery Facility.
The presentation focused on the Climate and Resilience aspect, and presented examples where various tools were used to determine the risks and mitigate them. It was argued that a sustainable approach and climate resilience are absolutely critical when implementing water and wastewater infrastructure project to deal with the ever-worsening climate events.
About the presenters:
Rina is an Environmental Engineer and Envision Sustainability Professional (ENV SP) specializing in municipal wastewater treatment with over 17 years' experience in the industry. Her interest to leverage existing resources to optimize infrastructure led her to the Envision Sustainability framework. Alex Mason is an Intermediate Engineer and ENV SP with extensive experience in Climate Change Vulnerability Assessments. Rina and Alex work with R.V. Anderson Associates, an Envision Qualified Company with more than 20 ENV SPs.
https://envisioncanada.com/wp-content/uploads/2022/11/Screenshot-2022-11-11-at-5.00.16-PM.png
922
1086
Conrad McCallum
https://envisioncanada.com/wp-content/uploads/2022/03/Envision_CA-logo.png
Conrad McCallum
2022-11-11 21:23:50
2023-04-13 08:25:21
Envision at CWWA National Water and Wastewater Conference