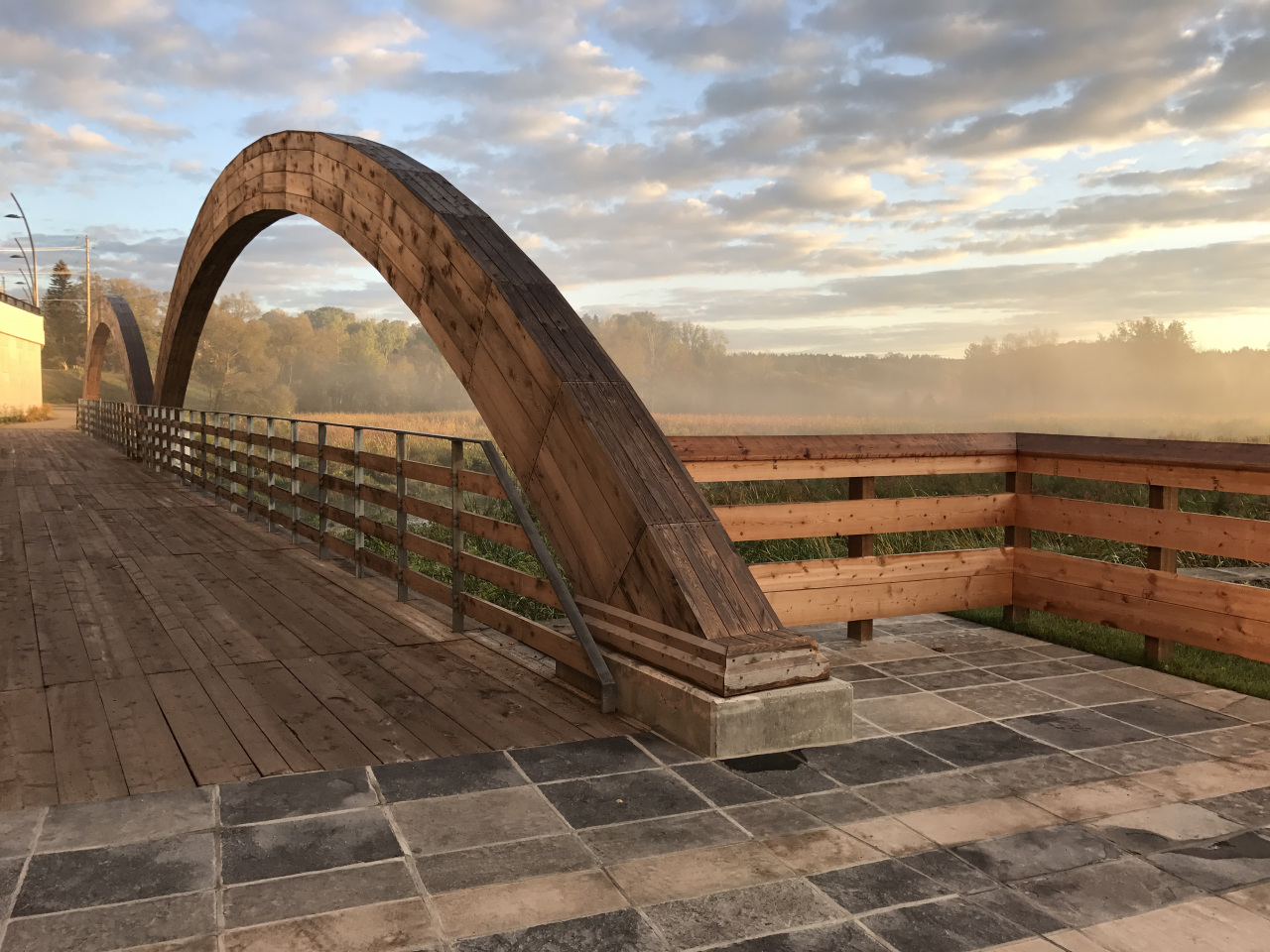 ISI has awarded an Envision Bronze Award for sustainable infrastructure to the 2nd Concession Project, a major north-south arterial corridor under the jurisdiction of the Regional Municipality of York (York Region). Located in the Town of East Gwillimbury, this is the second project in Ontario to earn an Envision award for sustainability and the first project in the transportation sector in the province to do so.
The project in brief
The 2nd Concession project—the largest project ever undertaken by York Region's Transportation Services Department—was a necessary investment in infrastructure to accommodate the tremendous growth in York Region and the Town of East Gwillimbury in particular. The six-kilometer corridor, extending from Bristol Road to Queensville Sideroad, crosses the Rogers Reservoir, a popular conservation area and recreational trail in the East Holland River watershed, which the Lake Simcoe Region Conservation Authority manages.
This project widened the 2nd Concession from two lanes to four and included trails, three bridges, retaining walls, active transportation facilities, and stormwater management.
Some of the unique elements of this project included:
—An elevated wooden boardwalk through wetlands and marshes connecting forests with growing residential communities.
—Benches, bike racks, and a flagstone meeting area.
—A wooden-clad pedestrian bridge in the Rogers Reservoir overlooks the historic canal and lock system, which the project protected and preserved.
—Bridges spanning an active rail corridor and the Holland River.
—Curvilinear and terraced tree-patterned retaining walls.
—Dedicated cycle tracks (the first in the Region).
Quotes
"Congratulations to York Region and its project partners on earning an Envision Bronze award for sustainable infrastructure for the 2nd Concession project. This award results from tremendous teamwork, leadership, and community collaboration. Everyone in the area should be proud of this achievement. Protecting and enhancing the corridor area as an important resource for residents was given high priority in the planning and construction of the project, with a context-sensitive design maintaining or improving the natural systems and community quality of life aspects receiving careful attention."
—  Melissa Peneycad, ISI's managing director.

"Yesterday was the first time we took our dogs for a walk along 2nd Concession. The view from the bridge is amazing. The viewing platforms on the bridge are a nice touch. The boardwalk for the trail blends in well with the environment. You and your staff have done a wonderful job on this project."

— R.W. a long-time resident living in the project corridor
This project had verified sustainability achievements in the following areas, among others: meaningful stakeholder engagement; improved infrastructure integration; improved mobility, safety and access; and wetland restoration.
https://envisioncanada.com/wp-content/uploads/2022/11/IMG_0947-scaled.jpg
1920
2560
Conrad McCallum
https://envisioncanada.com/wp-content/uploads/2022/03/Envision_CA-logo.png
Conrad McCallum
2022-12-06 08:34:02
2023-04-13 08:25:21
York Region's 2nd Concession Project Receives Envision Bronze Award