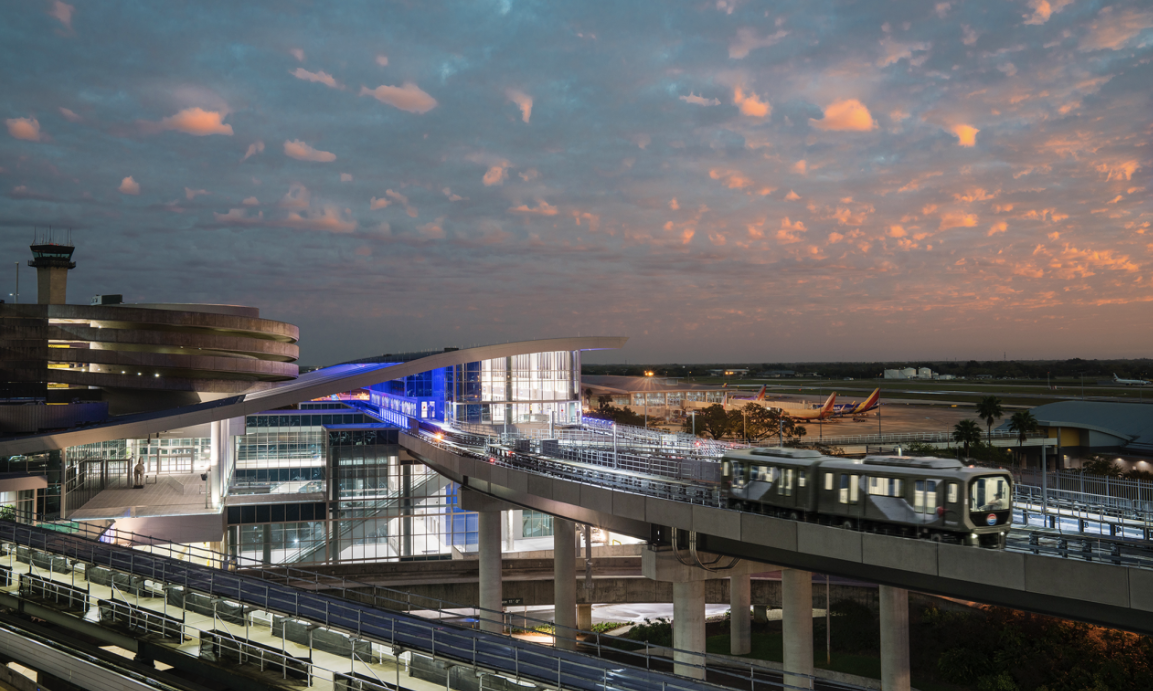 The Tampa International Airport Phase I Master Plan Project, led by Hillsborough County Aviation Authority (HCAA), has earned an Envision Verified award for sustainable infrastructure. This project enhanced community mobility, emphasized mitigation against climate change impacts, and advanced many other sustainability goals across multiple Envision credit areas. Phase I was completed in 2018 after three years of work at Tampa International, which is the 23rdlargest US airport, serving nearly 22 million passengers annually (2023 figures).
HCAA noted that by using the Envision framework to dissect a recent project that was completed under its Sustainable Management Plan, leadership had an opportunity to evaluate how Envision might further improve its existing approach to sustainability. This includes project planning, design, construction, operations, as well as future opportunities to further incorporate sustainability into the organization.
QUOTES:
Jeff Siddle, Vice President of Planning & Development:

"This Envision-verified certification for Tampa International Airport's Master Plan Phase 1 is a tremendous achievement for Tampa International Airport. All of TPA's leadership is proud of this organization's planning and development processes and its focus on our sustainability program. TPA is known for its consistently excellent customer experience, but we also want to give our travelers the peace of mind that we are devoted to protecting our surrounding natural resources and maintaining them for the future." 
Eric Caplan, Sustainability and Resilience Program Director:

"Earning this honor for these critical projects was a difficult feat, particularly because we launched our certification efforts after the completion of these projects rather than during the development process per industry standard. This is a testament to how we're able to effectively display our commitment to sustainability through detailed documentation, and it highlights just how well we organically integrate best practices into our processes."
Melissa Solberg, Senior Manager, Office of Innovation

"The planning, design and construction for Phase 1 of the Airport's Master Plan aligned with the implementation of TPA's first-ever Sustainable Management Plan. The connectivity between those two affirmed that both what we were doing and what we ultimately want to achieve were right on target."
Kristi Wamstad, ISI Verification Director: "ISI congratulates Hillsborough County Aviation Authority and the project partners on the success of the Tampa Bay International Aiport Phase I Master Plan. The project affirms HCAA's strong commitment to environmental sustainability, improved community mobility and workforce development; the improvements also made good on a long-term vision for encouraging sustainable transportation and prioritizing resilient infrastructure."
Phase I first took shape over a decade ago, following a 2012 Airport Master Plan that found multiple components had already reached or were approaching maximum capacity, with no ability to expand. These included the main terminal, rental car facilities, roadways and curbside areas, and long-term parking. Phase I succeeded in moving traffic away from the main terminal by developing a new Rental Car Center (RCC) and an Automated People Mover to shuttle between the RCC and the main terminal. Other improvements supported greater integration with the regional transportation network, such as additional bus route connections to Hillsborough and Pinellas counties.
In the main terminal, where a key focus was to determine the best configuration for the update to the transfer level of the main terminal, the project team developed four alternatives to mitigate the potential impacts to critical public space. The recommended alternative included an expansion of the existing four-corners of the main terminal that had the ability to be used for numerous public spaces.
Here is a summary of key facts associated with the finished projects:
A 2.6-million-square-foot Consolidated Rental Car (ConRAC) facility and an Automated People Mover (SkyConnect) with a 1.5-mile track. The changes reconfigured ground transportation at the Airport and replaced shuttle buses needed to bring passengers from the RCC and parking lot to the Main Terminal. This helped to remove 3.8 million vehicles from the Airport roadways and curbsides each year. Supporting components included: South Terminal Support Area roadway improvements and the Taxiway J Bridge modification.
The Main Terminal and Airport Concessions redevelopment expanded the terminal and built-out new concessions. This was supported by the construction of a warehouse to support the expansion of concession operations.
Improvements in the main terminal and concessions areas relieved congestion by increasing public spaces available, while ensuring that no previous public amenities were lost. The new spaces are used for public art displays, meeting spaces, and food and retail spaces.
VERIFIED SUSTAINABILITY ACHIEVEMENTS
Public space, amenities, and access. The project included main terminal and airport concessions improvements. As part of this, four outdoor terraces and a courtyard contribute to the passenger and airport employee experience by offering access to outdoor spaces, which is unique for an airport terminal. Beyond these amenities, the project embraced myriad sustainable design concepts, from maximiming the use of natural lighting and using high efficiency LED lighting (to minimize energy consumption); to locking paver systems in the courtyard and terraces, which supported reduced long-term operations and maintenance and improved resiliency.
The project also included efforts to preserve culturally significant airport artwork and to ensure that the culture of celebrating local artists would be preserved and enhanced with the redevelopment of the main terminal.
Additionally, in terms of infrastructure access, the project led to an "all access" program that allowed members of the community who are not flying to visit the airport's airside concessions and restaurants that were expanded as part of Phase 1. Tampa International Airport is one of just three airports in the U.S. that allows members of the public to access their post-security amenities without a boarding pass.
Workforce development. HCAA seized on the opportunity presented by this project as a force-multiplier for the region and also used tools to promote social equality. Partnerships that demonstrated a commitment to economic vitality received priority. In total, over 600 companies were involved in Phase 1, utilizing nearly 200 women owned, minority owned and/or disadvantaged businesses. Moreover, 90 percent of the companies were native to Florida or had regional offices located there.
Reclaim brownfields. When the Phase I Master Plan Project began, there were three active contaminated sites within the project boundary. All three underwent active remediation during the project. Two of the sites were subsequently closed, having met rehabilitation requirements, as a result of these activities.
Encourage sustainable transportation. The airport's ground transportation dynamics and passenger experience were transformed. Together, the development of the ConRAC, the SkyConnect and their supporting projects resulted in 3.8 million fewer vehicles on the airport's roadways annually. Efficacy was also improved by innovations like the ability to check bags remotely from the RCC. Overall, integration into the regional transportation network improved. As an example, there are now additional bus routes for passengers, airport workers and other regional travelers to move throughout both Hillsborough and Pinellas counties.
Climate and resiliency. The project team identified relevant climate threats facing the planned infrastructure, and then determined risks and vulnerabilities associated with airport assets and operations. Following completion, representatives from the airport and RS&H presented their findings at the Annual Southeast Florida Regional Climate Leadership Summit. In the Envision framework, one of the key criteria at the higher levels of achievement for this credit is the sharing of climate threat findings in order to support and facilitate community awareness and their inclusion in future projects.
PROJECT DETAILS AT-A-GLANCE
Envision-Verified Project: Tampa International Airport Phase I Master Plan Project
Location: Tampa Bay, Florida
Lead Envision Firm: RS&H
Envision Rating: Verified
Award Date: August 8, 2023
Project Owner: Hillsborough County Aviation Authority (HCAA)
Project Phase: Operational
For More Information: Visit the project website.
Download the Project Profile & Award Announcement.
ADDITIONAL IMAGES: