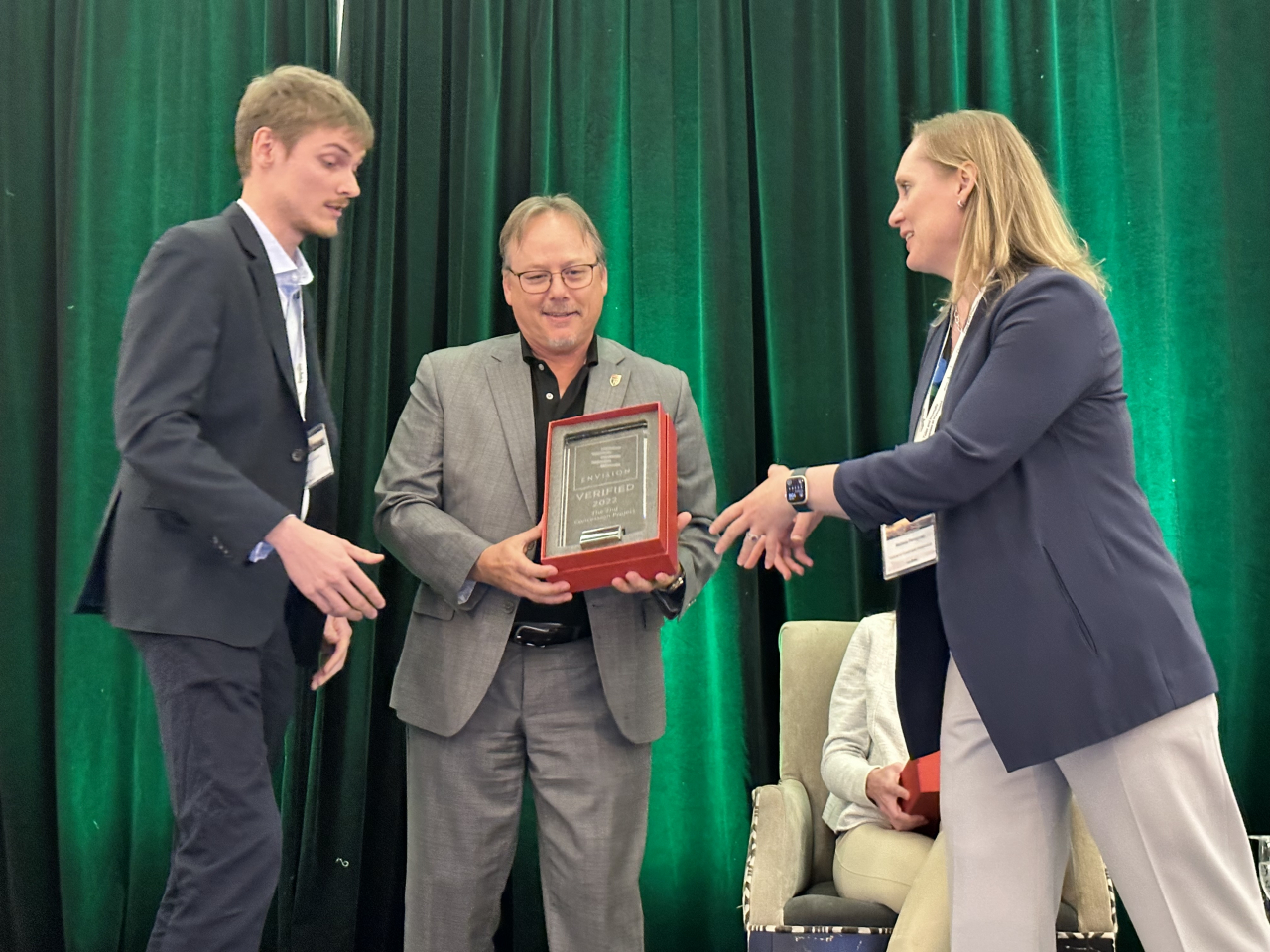 The 2022 Canadian Envision award recipients were recognized with verification awards presented by ISI's managing director Melissa Peneycad at CSCE 2023 in Moncton. The recipients were the Centerm Terminal and South Shore Access Project (Envision Platinum 2022), the Vendôme Metro Station Entrance Project (Envision Gold 2022), and the 2nd Concession Improvements Project (Envision Bronze 2022). Each delivers substantial, measurable benefits for sustainability, as measured by achievements across key Envision credit areas.
Peneycad highlighted that these projects were from three different regions of the country and represent only a sample of some of the most outstanding applications of Envision in the country today. There are now 14 projects that have earned Envision awards for sustainability, and these projects represent a wide range of different infrastructure types and sizes.
Accepting the awards: Melissa Peneycad, on behalf of the Société de transport de Montréal (Vendôme Entrance), Jen Johnston, on behalf of the Vancouver Fraser Port Authority (Centerm), and Clément Boisselier, on behalf of Aecon Group Inc. (2nd Concession). CSCE was represented by Wade Zwicker, President in the presentation of these awards.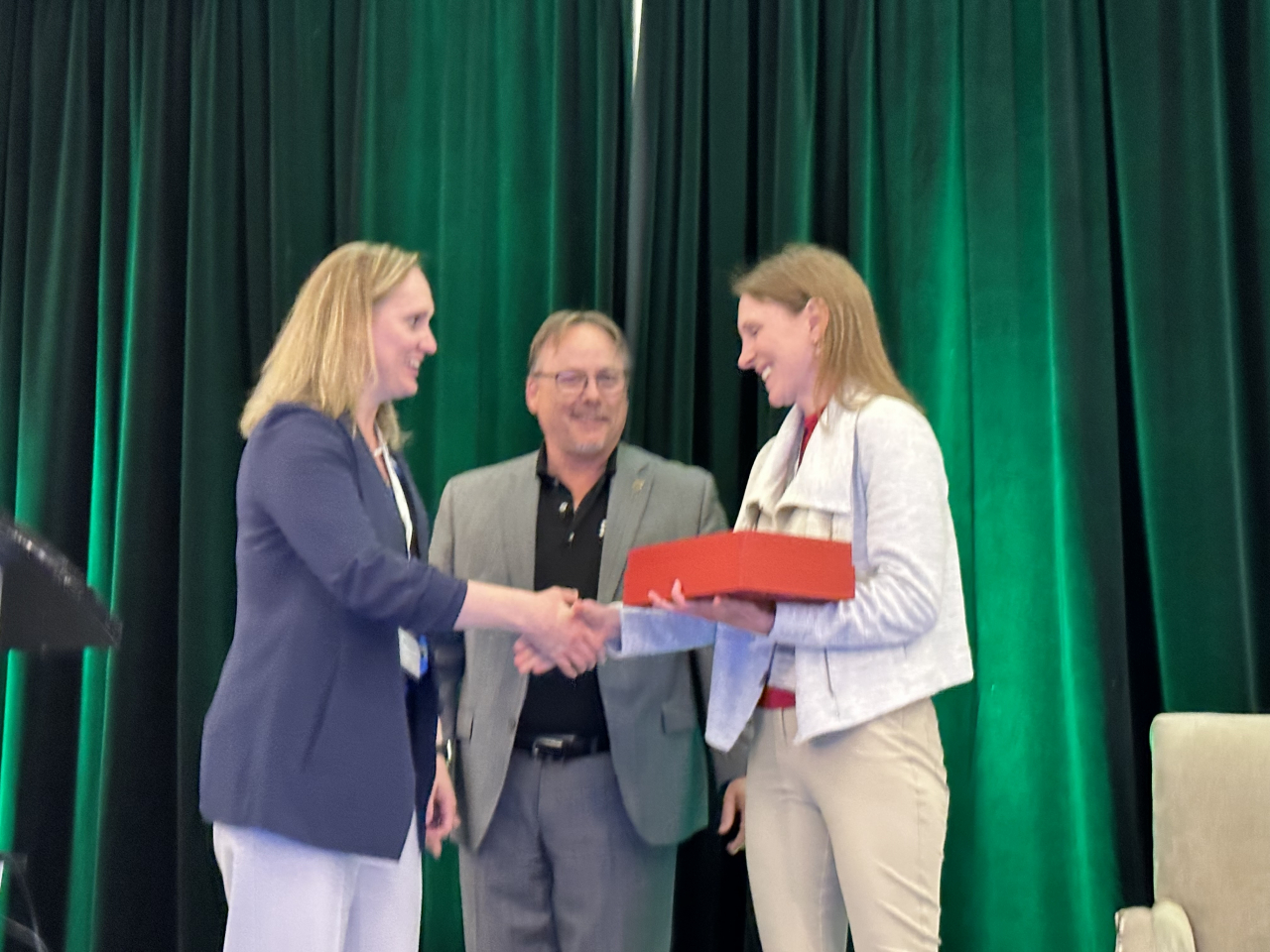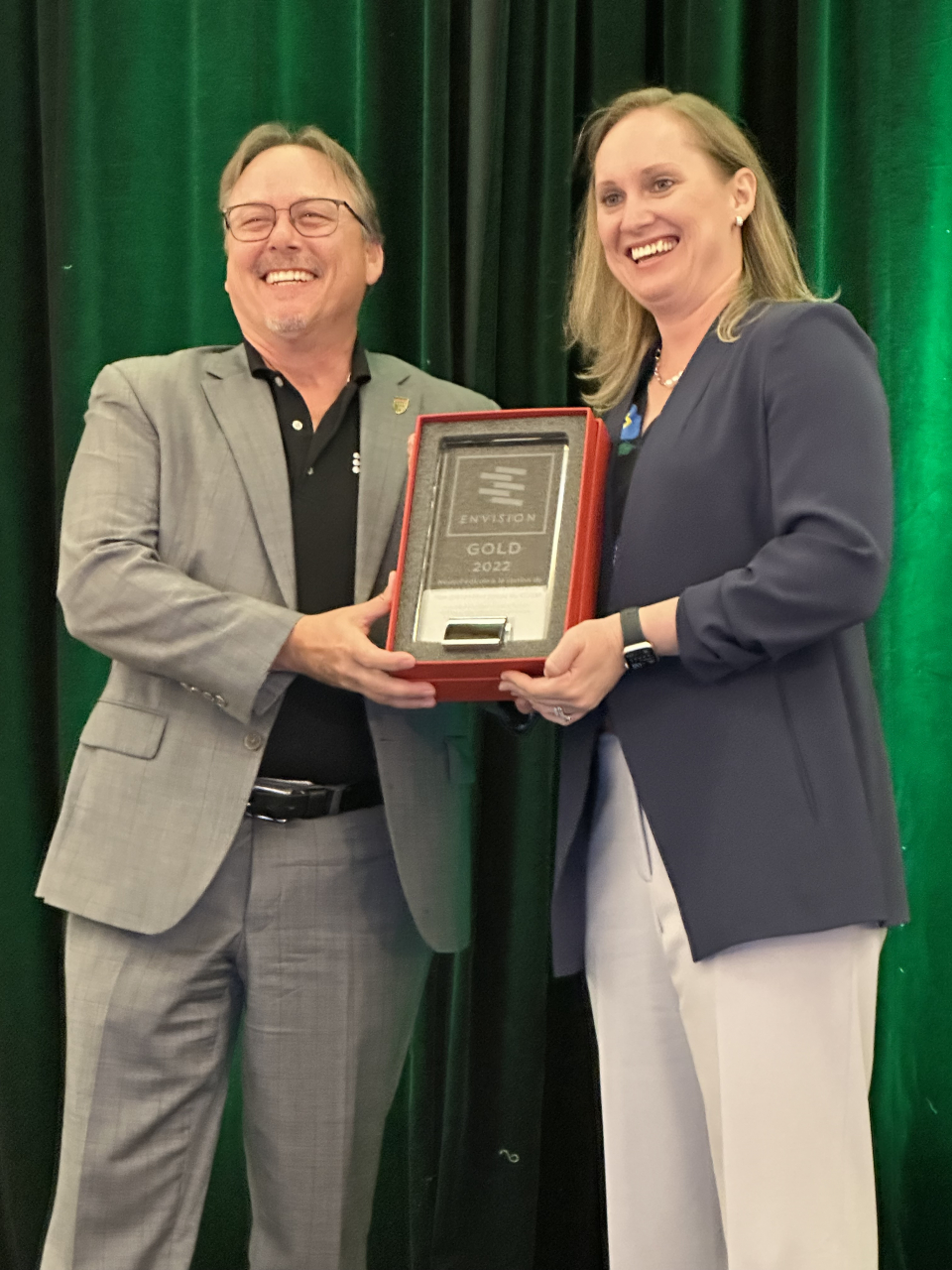 Read a short description of these projects below, and click on the links for more information.
Centerm Terminal Expansion Project and South Shore Access Project in Vancouver, B.C.
The Port of Vancouver is Canada's gateway to over 170 trading economies worldwide, handling $1 of every $3 of Canada's trade goods outside North America. This design-build project centers on terminal expansion and improvements which will increase container and vessel handling capacity, but includes off-terminal improvements to the adjacent road and rail network. The combined project helps meet the increasing export and import demand for containers shipped through the Port of Vancouver.
Credits: DP World, AECOM, WSP, Dragados, Jacob Bros. Construction, FRPD.
https://sustainableinfrastructure.org/project-awards/centerm-expansion-project-and-south-shore-access-project/
Vendôme Metro Station Entrance in Montreal, Quebec
The project consists of developing a new entrance to the Vendôme metro station and a pedestrian link between Maisonneuve Boulevard, the Vendôme intermodal hub, and the MUHC. The new station infrastructure, including the entrance, train station platforms, a pedestrian tunnel leading to the hospital complex, and walkways, are equipped with elevators and universal accessibility devices, such as enlarged motorized butterfly doors and swing gates.
Credits: Société de transport de Montréal (STM), exo, and the McGill University Heath Centre (MUHC); Bisson Fortin and Provencher Roy Architectes (consortium) SNC-Lavalin (resource contributions).
https://sustainableinfrastructure.org/stms-vendome-metro-station/
2nd Concession Improvements Project in East Gwillimbury, Ontario

This project, the largest project ever undertaken by York Region Transportation Services, was designed to accommodate the tremendous growth experienced in the Region and the Town of East Gwillimbury in particular. The six-kilometer corridor, extending from Bristol Road to Queensville Sideroad, crosses the Rogers Reservoir, a popular conservation area and recreational trail in the East Holland River watershed, which the Lake Simcoe Region Conservation Authority manages. This project widened the 2nd Concession from two lanes to four and included trails, three bridges, retaining walls, active transportation facilities, and stormwater management.
Credits: Town of East Gwillimbury, Town of Newmarket, Lake Simcoe Regional Conservation Authority, WSP Canada, Aecon Construction and Materials Limited, EXP Services Inc., Metrolinx, Ministry of the Environment, Conservation, and Parks.
https://sustainableinfrastructure.org/project-awards/the-2nd-concession-project/
https://envisioncanada.com/wp-content/uploads/2023/06/Image-1-scaled.jpeg
1920
2560
Conrad McCallum
https://envisioncanada.com/wp-content/uploads/2022/03/Envision_CA-logo.png
Conrad McCallum
2023-05-25 23:51:23
2023-06-14 01:04:13
Centerm Terminal, 2nd Concession, and Vendôme Metro Station Entrance Projects Honoured with Envision Awards